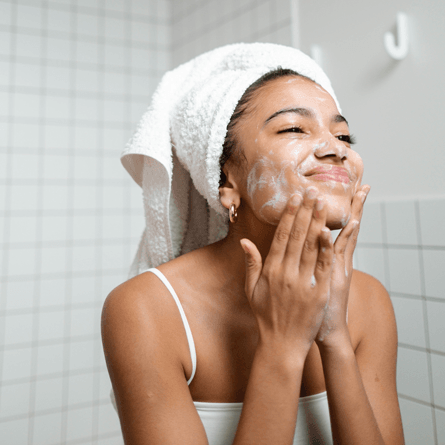 Level Up Your Skincare
With the current proliferation of local skincare brands claiming to be natural and environment-friendly, FIRST for WOMEN I FIRST for MEN Skincare rises above the rest. Our revolutionary products are formulated with PSE (Pumpkin Seed Extract) Antioxidant System - a holistic skin regimen and a powerful, natural active ingredient developed with Swiss technology which is a FIRST in the Philippines and is applicable to all skin types of women and men.

This 100% biodegradable active ingredient (PSE) takes advantage of the substances in one of the oldest cultivated plants, the organic Styrian pumpkin (Cucurbita pepo var. Styrioca) known for the highest quality pumpkin seed oil. PSE is rich in free amino acids and other essential elements that ensure the successful rejuvenation of Autophagy.

Stress, aging, unhealthy lifestyle or hormonal changes cause a malfunction in the autophagy or cellular upcycling system which results in the accumulation of cellular wastes and toxins. The skin becomes drier and the overall appearance deteriorates. These effects are known as "garb-aging".
PSE Antioxidant System is the essence of every FIRST for WOMEN I FIRST for MEN Skincare product that helps activate the autophagy mechanism which is the key in maintaining the normal cellular functions, by naturally repairing, cleaning and removing dysfunctional or damaged cellular components in order to regenerate newer, healthier cells. The visible effects are improved evenness and rejuvenation, less skin redness, smaller pore size, fewer skin spots and wrinkles.
Plant-Powered Ingredients

FIRST for WOMEN I FIRST for MEN Skincare works with the local farmers to ensure that our raw materials are sustainably sourced and of high quality. We use natural ingredients derived from some of the most important crops that grow in the rich Philippine soil. Alongside with botanical extracts, our products contain pure coconut oil, virgin coconut oil and natural calamansi extract.


Virgin Coconut Oil softens, smoothens, hydrates and protects the skin. It minimizes the early signs of aging like fine lines and wrinkles, helps fight against environmental stressors that can cause skin damage and gives skin a natural radiance.


Natural Calamansi Extract regulates Sebum secretion by reducing excess oil production that can cause pimples, acne, blackheads and other skin problems. It aids in reducing discoloration, correcting blemishes and lightening dark spots. It contains Vitamin C that helps in producing the natural collagen protein in the skin making it firmer and healthier-looking.

Repurposed, Sustainable Packaging

We, at FIRST for WOMEN I FIRST for MEN Skincare make a conscious effort to develop and market products that are gentle on skin and care for our environment and the future generation. The same principle applies to our packaging.


We use eco-friendly Bamboo Caps to seal our products' reusable bottles. Bamboo is biodegradable and compostable. It is a sustainable resource considering the ability to grow fast without the need for much water, fertilizers or pesticides. Hence, there are more environmental benefits in using a bamboo cap than plastic, metal or other materials.


We also use a zero-waste soap saver pouch made of Sisal with a bamboo stopper that holds the drawstring. It is a natural fiber extracted from the leaves of a succulent plant Agave Sisalana which originates from Mexico. Sisal pouch is a clean way to store the soap bar and doubles as an exfoliating body scrubber that's soft on the skin. Sisal is biodegradable and non-toxic. The fibers do not attract or trap dust particles easily therefore good for people with allergies or asthma. It is an eco-friendly packaging that can serve as a sustainable renewable resource because the plant is easily cultivated without the need for chemical compounds that can harm the environment.